Unfortunately, our community lost a great beacon of empathy, courage and leadership this holiday season with the recent passing of Judge Harry Pregerson. Judge Pregerson was a tireless advocate for the homeless of Los Angeles County, particular veterans and families. The Judge was instrumental in the founding and construction of shelters, transitional housing, permanent supportive housing and child development centers in communities where he also volunteered his time.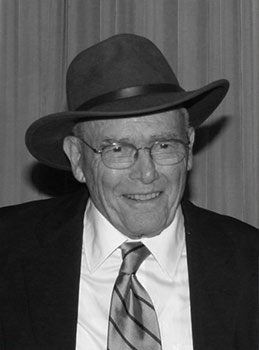 "The Judge was key in helping us to secure our first warehouse on the Bell complex. Within two weeks of making the call in 1989, we had our federal permit to operate a 30,000 square foot warehouse," Shelter Partnership Executive Director Ruth Schwartz remembers. "This led to us now owning our current 108,000 square foot warehouse, where last year we distributed over $10 million in new goods to over 230 agencies."
The Judge was a major booster of our work and a dear friend to us all. He was also a great supporter of organizations directly serving the homeless including Century Housing, The Salvation Army, and U.S. Veterans Initiative, to name a few.
As Ruth shared, "People like 'The Judge,' as he was fondly called, rarely come along. He was incredibly bright, insightful, hardworking, a relentless advocate for social justice, empathetic, and had an infectious sense of humor. We feel truly privileged and honored that we had the opportunity to work alongside him in our efforts to solve homelessness for 30 years. We will miss him greatly and will fondly remember him and the bright twinkle in his eyes, and then recommit to the work that remains to be done."
This issue of Connections is dedicated to the memory, the spirit, and the legacy of Harry Pregerson.