In its third year, our Associate Board has been active in raising funds and awareness among young professionals for Shelter Partnership. The excitement brought by these energetic ambassadors for our mission has been such a wonderful benefit to our organization!
This year the AB interacted with the Los Angeles community in many different ways, organizing and hosting events that were fun, informative, and inspiring.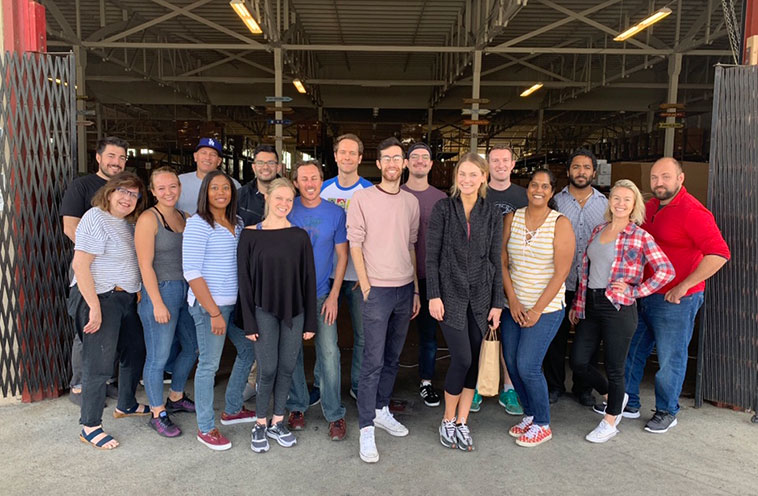 Members of the Associate Board (along with friends and significant others) with Executive Director Ruth Schwartz after sorting thousands of pairs of socks for the homeless at the S. Mark Taper Foundation Shelter Resource Bank. (From left: Stavros Savvas, Ruth Schwartz, Sarah Holzman, Governing Board member Peter Barker, Lauren Greene, Shash Mishra, Dara Papel, Todd Weinger, Kevin Anderson, Geoff Kehlman, Alex Ray, Larissa Von Lockner, Ray Morrill, Charuni Patibanda, Travis Chapa, Melissa Smyt, and Tim Dodd.)
In January, the AB hosted a networking event in order to raise awareness about the Greater Los Angeles Homeless Count. The event was open to the public and featured speakers from Los Angeles Homeless Services Authority. Later that month, AB members volunteered with the homeless count in the Leimert Park area. In March, AB members toured two Permanent Supportive Housing projects. The group met with residents and learned about the structure, wrap-around services, and financing of permanent supportive housing facilities. Later in the Spring, group members attended United Way's #EveryoneIn launch event in Exposition Park. Summer saw the group hold their 3rd Annual Run for Shelter 5k at the beach in Santa Monica. Several group members were very active in helping to plan our Annual Dinner gala by serving on the Dinner Committee. As part of the Annual Dinner program, the group hosted the Young Professionals Social Entrepreneurship Forum event featuring Annual Dinner honoree Therese Tucker. In October, the group hosted a networking event at the Hotel Erwin in Venice. At the end of the year, they joined together with our Governing Board for a volunteer session at our S. Mark Taper Foundation Shelter Resource Bank warehouse.
2019 is already looking bright! The Associate Board has a number of events and volunteer opportunities planned for the year. Look for them to get even more involved in expanding Shelter Partnership's mission to fight homelessness in L.A.
Interested in learning more? Visit our website and find information about the Associate Board under the "Get Involved" tab. Associate Board members gain a valuable philanthropy experience, assisting Shelter Partnership with fundraising, recruitment, community outreach, events, and more. If you know a young professional in L.A. County who is passionate about making a difference in the community, let them know about our Associate Board.