"What people do not realize is there are a lot of homeless families with children in San Pedro. At Richard Henry Dana Middle School, we have 53 homeless families this year," states Yolanda Aranda, Dana Middle School's Healthy Start Navigator.
When Aranda learned one of the students at Dana Middle School was living on a bench in front of the local library with her mother, she jumped into action and started connecting them with services. The student living on the bench was embarrassed by her dirty clothes and did not want to come to school. Aranda provided the student donations from Shelter Partnership that included clothing and hygiene products. She was also able to find the family shelter.
With over 70% of the students classified as low-income, Dana responded to the needs of their students by creating The Giving Room. It is an unmarked room at the school stocked with donations for the whole family. It includes: new socks and underwear, gently used clothing, school supplies, hygiene products, backpacks, and athletic shoes.
"The donations from Shelter Partnership have helped over 100 families and it has been amazing. Families have received socks, shoes, toothbrushes and clothing and it has been very helpful to parents who have very little," states Aranda. "We were able to serve more families thanks to Shelter Partnership. Children did not have shoes and now they do. We are very grateful to Shelter Partnership," she continues.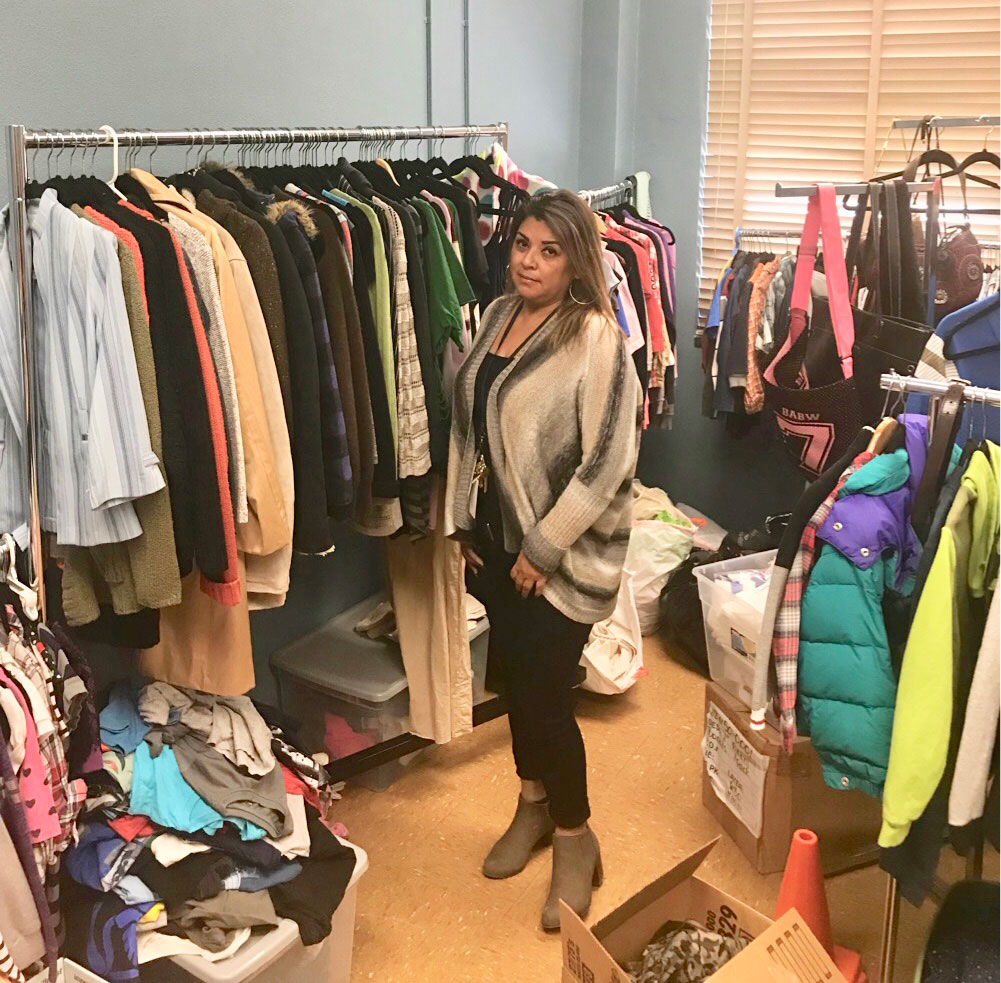 Dana Middle School Healthy Start Navigator Yolanda Aranda in The Giving Room.
Students know where to go if they do not have a jacket, deodorant or school supplies. "The Attendance Office also lets me know when a family is in crisis," states Aranda. "The parents are often surprised and grateful to be able to have a few pairs of new socks, school clothes for the kids, and canned goods. Often, (the Attendance Office) hears that families share socks or wear the same pair for days because they cannot do laundry," she states.
Dana Middle School shares surplus donations with several local schools. Other schools in the community send families to Dana Middle School in an effort to help get them what they need. Many of the families at the schools have not received any services up until this point and are unaware of where to go for help. Aranda not only provides donations, but she also works with the parents to teach them how to obtain services and housing on their own.
Shelter Partnership has been providing donations to Dana Middle School for over two years.