Shelter Partnership is honored to have a long friendship with Elizabeth "Libby" Boyce, who serves as a Program Implementation Manager with the County Department of Health Services Housing for Health Program. Many of you may know Libby's son Cameron, a talented performer with a number of television and movie credits, including Disney's Jessie, the Descendants franchise, Grown Ups, Grown Ups 2 and most recently HBO's Mrs. Fletcher.
Unfortunately, Cameron passed away suddenly this summer. This loss was not only tragic and shocking to Cameron's many fans, but also to the Los Angeles homeless services community.
Much like his mother, Cameron Boyce was heavily involved in the fight against homelessness in greater Los Angeles. Cameron was very vocal about the issue in many interviews; he also backed up words with actions like appearing at the United Way's annual HomeWalk downtown each year since 2010, even participating in the event's opening ceremonies every year. He also provided items to Shelter Partnership's Annual Dinner auctions. For our 2017 Annual Dinner auction, Cameron was thoughtful and generous enough to donate a visit with him on one of his sets. For the past two years, he provided us with items related to the massively successful Descendants franchise, including autographed photographs of the entire cast.
Cameron Boyce was a great advocate for the homeless of Los Angeles. His passing is not just a loss for what he could have done on stage and screen, but for what he would have done for the less fortunate of our City. His parents have created The Cameron Boyce Foundation in his honor to carry on the philanthropic work he began.
This issue of Connections is dedicated to the memory, spirit, and legacy of Cameron Boyce.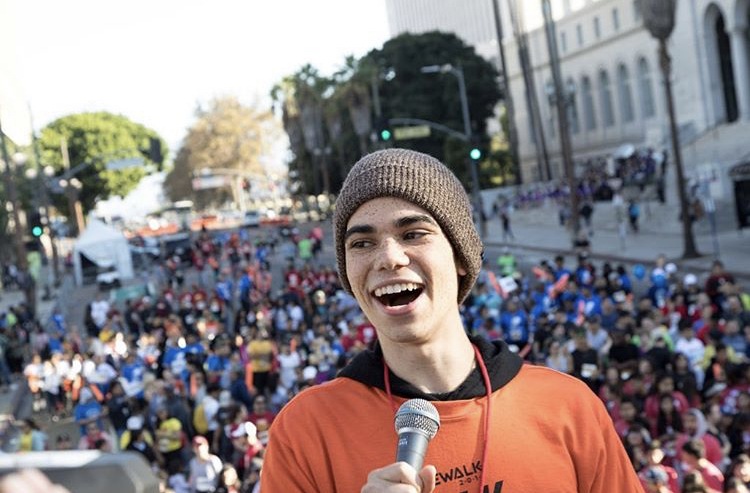 Cameron Boyce at the 2017 HomeWalk Los Angeles.