In this issue of Connections, we'd like to highlight a community partner working with kids in foster care: Hope in a Suitcase.
There are roughly 35,000 kids in foster care in L.A. County. Many of these children enter foster care under emergency conditions; and often move several times before being reunited with their families or legally adopted. In both instances, foster children have to carry what belongings they can in a plastic bag or pillowcase. This is where Hope in a Suitcase comes in.
Hope in a Suitcase provides foster children with a suitcase full of essential items. Each suitcase includes pajamas, clothing, blankets, books and journals, shoes, socks, a toiletry kit and a handwritten note supporting the child. Foster kids range in ages and needs. Hope in a Suitcase works closely with foster agencies to make sure each child receives the essentials they need, personalized to their age and gender.
Hope in a Suitcase understands older youth don't just want a bag handed to them; they want to choose their own items. Hope in a Suitcase regularly hosts free "shopping days" where tweens and teens can shop for clothing, shoes and books that best fit their body types and tastes. Many items are provided by Shelter Partnership.
At one shopping day this summer, 129 foster children received clothing and hygiene products. Because of this event, Hope in a Suitcase was able to help these kids start the school year off with confidence. As one student said, "For all the kids out here with nothing, you help show that there are brighter days. I am so grateful that words are not enough to explain. My auntie has tried time and time again to find me clothes and shoes I'll like, or more importantly fit. And today I was able to walk out of here with everything I needed and more."
Hope in a Suitcase will have outfitted about 11,000 foster children by year's end. We are honored to align with such an organization and look forward to many more years of being a small part of their inspiring work.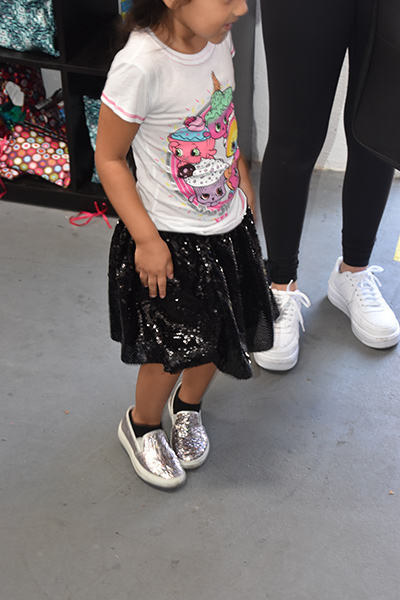 A girl in foster care is happy with her new shoes distributed to Hope in a Suitcase by Shelter Partnership.