2019 was another impactful year of experiences and learning for our Young Professionals Associate Board.
In January, the group hosted an informational mixer about the annual Greater Los Angeles Homeless Count at the Hotel Erwin in Venice. Associate Board members then participated in the Homeless Count in Leimert Park and the surrounding neighborhoods.
Members of the Associate Board and their family and friends celebrate the 4 th Annual 5K fundraiser on the Santa Monica beach.
In March, the Associate Board hosted their largest—and most successful—event yet: a night out at the Magic Castle in Hollywood. Well over 100 people attended, helping the Associate Board raise over $40,000 for Shelter Partnership. Needless to say, it was the first of what we think will be an annual event.
Summer brought on the Associate Board's 4th Annual 5k Run. Several dozen runners (and one dog) took over the Santa Monica boardwalk on a Saturday morning. The event was another big success, raising over $12,000.
At the end of the year, the Associate Board was also responsible for one of Shelter Partnership's more visible marketing endeavors ever. Shelter Partnership was Nonprofit of the Night at the Clippers game against the Boston Celtics at Staples Center on November 20th. Because of the Associate Board's work, nearly 20,000 thousand basketball fans got to learn about Shelter Partnership and our important mission.
The Associate Board was created to expand knowledge of the causes and solutions to homelessness, and to increase the involvement of young professionals in Los Angeles. Every Associate Board event in 2019 was larger and drew more people from the community than the year before. Sounds like a pretty good year. The group is ready for a big 2020.
Interested in joining the Associate Board, or know someone who would be a good fit? Contact Tracy at twallace@shelterpartnership.org.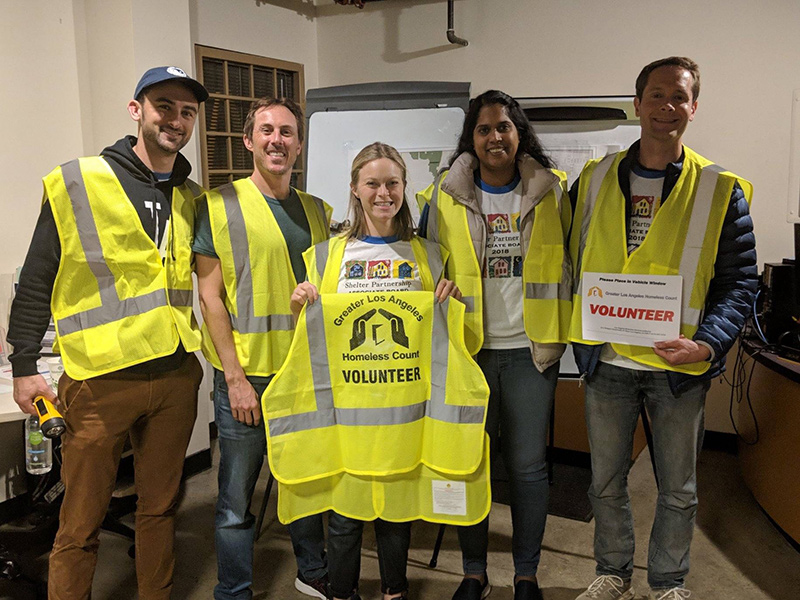 Our Associate Board volunteered during the Greater Los Angeles Homeless Count in January.