Since our inception over 30 years ago, Shelter Partnership has provided $270 million dollars of nonperishable product donations like socks, blankets, diapers, new shoes, and clothing to a network of over 280 nonprofit agencies serving people who are experiencing poverty and homelessness in Los Angeles County.
Shelter Partnership has responded to the current crisis by working with donors to secure over 350,000 facemasks that are critical for the safety of frontline staff and clients of homeless shelters, agencies that serve foster youth, Project HomeKey, low-income schools, and many other organizations.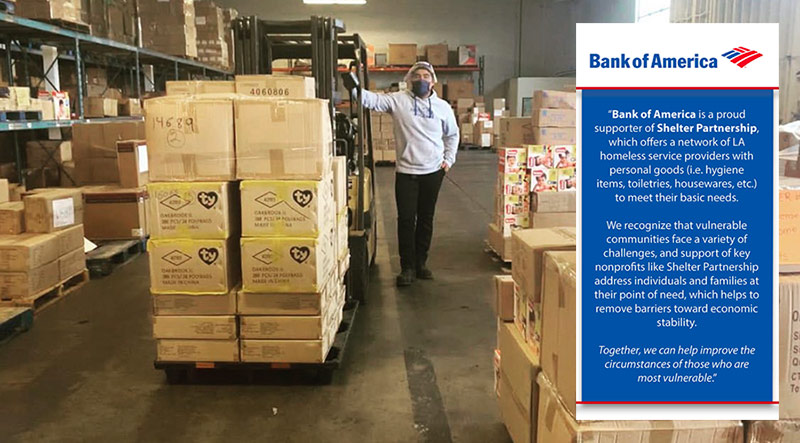 For people living in poverty and those providing them services, a face mask can truly be life-saving.
Shelter Partnership is fortunate to have long working relationships with many generous companies. Our friends at Bank of America; Mad Engine; Pair of Thieves; Charipay; DonatePPE.org; BizFed; Kanji from the People; Greenberg Glusker Fields Claman & Machtinger LLP; S.J. Distributions Inc.; Hanes; and others have donated over 350,000 face masks for Shelter Partnership to distribute across L.A. County.
"Bank of America is a proud supporter of Shelter Partnership, which offers a network of LA homeless service providers with personal goods (e.g., hygiene items, toiletries, housewares) to meet their basic needs. We recognize that vulnerable communities face a variety of challenges, and the support of key nonprofits like Shelter Partnership addresses individuals and families at their point of need, which helps to remove barriers toward economic stability. Together, we can help improve the circumstances of those who are most vulnerable," states Millie Yamaki of Bank of America.
This incredibly generous act by our donors is helping to greatly mitigate the impact of the pandemic on the L.A. homeless population. We're humbled by actions like these and so proud of our role in helping people living in poverty through this difficult time.
If you are interested in making a product donation (new items only) to Shelter Partnership, please contact Jennifer Marquez, Senior Director of Product Donations, at jmarquez@shelterparetnership.org.