2020 was an interesting year. It was also the first year at the helm for our Board Chairperson Lance Simon.
Over the last 12 months, Lance has helped Shelter Partnership adapt to the new normal. He helped plan and served as one of the hosts of our first Virtual Event, consulted on the operations of our S. Mark Taper Foundation Shelter Resource Bank warehouse program, and participated in successful fundraising opportunities that are steering us through the pandemic.
In his day job, Lance serves as the Design Principal at EGAN | SIMON, a firm he co-founded based in Playa Del Rey. Lance has been a designer and construction manager on multitude of affordable and supportive housing sites across L.A.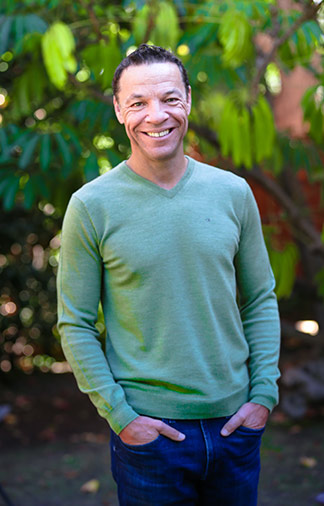 Supportive housing combines affordable housing with support services to address the needs of chronically homeless people, like counseling and job training. Lance firmly believes in the effectiveness of supportive housing. "Los Angeles has never been more wealthy and yet we are seeing more profound poverty. If you can do something, you must. Supportive housing is essential to the stability of people who have suffered injustice and misfortune."
A couple of Lance's projects include Step Up on Vine in Hollywood (where his work has been highlighted by the Clinton Global Initiative) and the Courtyards in Long Beach. Lance's projects have been awarded for their innovative design and energy efficient, environmentally sensitive sustainable building practices. These sites also do one important thing: they improve the lives of the residents.
Lance first came to Shelter Partnership several years ago, when we invited his firm to work on renovations at our warehouse facility in the City of Bell. During the renovation process, Lance got to know Ruth Schwartz and our organization. An immediate bond was formed, and Lance was quickly asked to join our Board of Directors. During his tenure, Lance has served on several leadership committees and has been heavily involved with logistical planning for events like our Annual Dinner and this year's first Virtual Gala. His work and dedication were rewarded by a unanimous selection to be Board Chairperson at the end of 2019.
2020 has been an interesting 12 months. As with the rest of the world, Shelter Partnership has been affected by the pandemic. Lance admits, "It has been a delight and a challenge. We were planning a really fun twist to the Annual Dinner, and it was cancelled. I want to spend time meeting my fellow Board Members, as well as potential collaborators in the industry, and it's just not the same to have a video meeting. The upside? People have been home, with the time to be exposed to what's really happening in this country. Homelessness, social injustice, racism, poverty. They see it's real and persistent, and a lot of people are listening and doing things to help."
Lance's passion and motivation to fight for our vulnerable neighbors is infectious. It's what Los Angeles needs to fight homelessness. We're lucky to have him guiding our organization through this unique time.