Did you know that the largest homeless resource facility in the nation is located in Los Angeles?
Did you also know that it's operated by Shelter Partnership? (Both are true!)
In 1989, Shelter Partnership launched the S. Mark Taper Foundation Shelter Resource Bank warehouse project. The warehouse project works sort of like a food bank, but only deals in non-perishable goods. Think of things you need every day that aren't food: shoes, socks, clothes, hygiene products – the necessities. We distribute these items at no cost to homeless agencies directly serving unhoused residents of L.A. County.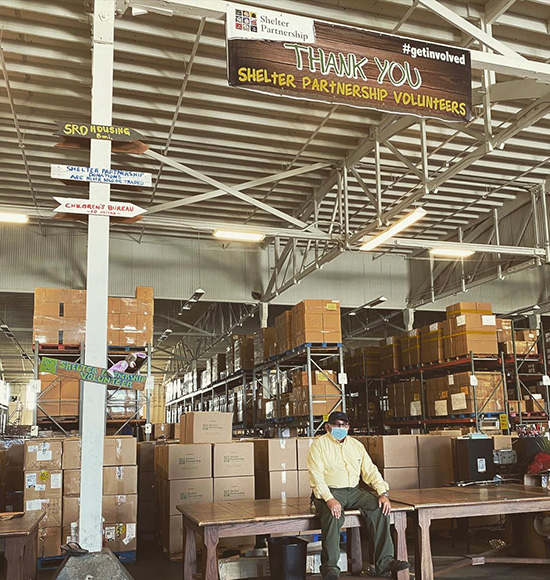 During our 2021-22 fiscal year, our S. Mark Taper Foundation Shelter Resource Bank warehouse distributed $21 million worth of goods to 277 agencies directly serving our unsheltered neighbors. The best part of this amazing year? We surpassed $300 million worth of goods given out in the warehouse's history. That's almost a third of a billion dollars Shelter Partnership has distributed for free to help the homeless of greater Los Angeles.
How does it work? Shelter Partnership takes in large-scale donations of new and unused goods from donors that range from local businesses to Fortune 500 companies. Organizations that provide direct service to people living in poverty – places like domestic violence shelters, foster care agencies, permanent supportive housing sites, Veteran's groups – are able to "shop" at our warehouse for goods they and their clients need.
We don't charge any of the agencies who receive goods from our warehouse. Why? To allow our partner agencies to use their money, time, and energy on providing direct services to homeless people instead of procuring these resources themselves. Hundreds of community agencies in Los Angeles depend on the warehouse to help them throughout the year.
This program wouldn't work without the amazing work of our warehouse staff, especially warehouse manager Jerry Ayala. He and his dedicated team have done so much for the underprivileged of Los Angeles. Here's to their continued success!